Artcraft Home is now introducing



... and a new word for your vocabulary (10% Off when used*):
Dreamscreen Pronunciation Key (Dr
m-skr
n)
v. Dreamscreened, Dreamscreening, Dreamscreens
To provide with a Dreamscreens retractable screen: dreamscreen a porch.
To protect, guard, or shield from bugs, no-see-ums, pigeons and UV rays.
Now you see it ...

... now you don't



How it works

The flexible screen mesh is held closed by a full length magnet. A gentle pull on the handle causes the screen to retract and roll entirely into the small square housing, virtually disappearing when not in use. Garage Dreamscreens are motorized and have remote controls.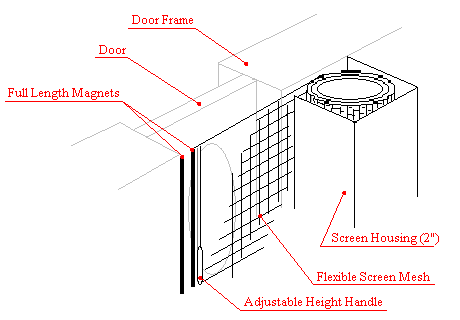 No bulky swinging doors in the way!
Look better from inside & out!
Won't hide those beautiful front doors!
Don't have to be removed & stored elsewhere all winter!
Application

Dreamscreens are ideal for screening single and double French Doors, sliding glass doors and garage doors. They can be placed anywhere, where an old-style screen is installed, including windows and porches. Dreamscreens are great for doors leading from the garage to the home for a cross breeze.

Dreamscreens are extremely versatile: they have been installed in outdoor showers, catering vehicles, trailers, horse stalls and even sailboat cabins! Call and ask if you have an idea for a new application. Dreamscreens have been installed on houseboats, catamarans, and most recently, on a beautiful yacht.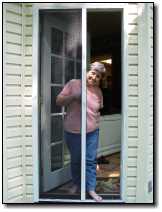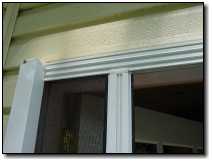 ( CLICK PICTURE TO ENLARGE )
Features
Very easy to install
Double welded reinforced top and bottom screen edge for far superior wear
Deep top guide rail practically eliminates wind blow out
Welded spline along entire pull rail, virtually eliminates wrinkles
Full-length magnetic seal from top to bottom
Available in SIX colors: white, bronze, sand, black, creme & hunter green
Full length foam bumper for ultra quiet operation
Adjustable spring tension (though seldom required)
Sealed dual ball bearings for super smooth operation
Heavy duty all aluminum extruded (stronger) structure
Adjustable height handle
Extremely durable baked-on finish
Proud to be made in the USA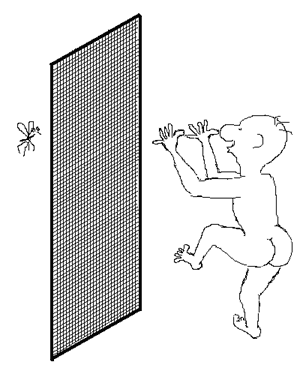 Caution

Even when closed, dreamscreens are very little visible, or invisible at all. In fact, sometimes they are Dangerously Invisible - people sometimes walk through the closed screens. For that reason it is strongly recommended that while you are getting used to your new dreamscreen, you should tie a couple of threads somewhere in the middle of the screen on the sight level, so that you could see presense of the screen in the door frame when you aproach it.
Installation options

Dreamscreens can be mounted inside the doorframe (flush mount) or on the surface of the interior or exterior molding (face mount).

Face mount: left hand and right hand doors


Flush mount: left hand and right hand doors


Face mount: double doors

Flush mount: double doors

____________________________
*All discounts apply to Installed Prices only. Different offers do not combine. Discount offers must be mentioned before the installation to be rewarded.